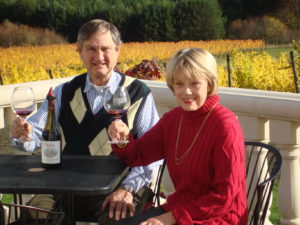 Cardwell Hill Cellars was founded with a passion for premium wine and a love of the Willamette Valley. In January of 2000 Dan and Nancy Chapel purchased the land that is Cardwell Hill Cellars. Located twelve miles west of Corvallis in the shadow of Mary's Peak, this plot was just what they wanted. It had a north/south slope, volcanic basalt soil and abundant rainfall.
Once the ink was dry on the contract, Dan and Nancy set about to establish their brand. They cleared, planted and built. Soon new vineyards were established and an administrative center and winery were built. In 2003 the first pinot noir was produced. The tasting room opened to the public Thanksgiving weekend 2004. Pinot Noir 2006,their fourth vintage, was included by Wine Spectator in their Top 100. And so the dream continues.
Our Wine
Good wine comes from good fruit. At Cardwell Hill we take this maxim seriously. Our vineyards, located in a small microclimate between Corvallis and the Coastal Range, provide ideal growing conditions for Pinot Noir and Pinot Gris. The Jory soil over fractured basault formations, the north-south slope, the warm days followed by cool evenings and the natural underground moisture produce grapes with intense color and just-the-right acidity. Mother nature provides the irrigation, thus the plants obtain the moisture they need, not what a mechanical system allocates. Annually our crew goes through the vineyards an average 35-40 times each season cultivating, leaf-pulling and a multiplicity of other tasks. All Cardwell Hill wines are produced from estate grown fruit, allowing us to harvest at just the right time.
As soon as the fruit reaches the winery, the processing begins. With our award-winning Pinot Noir, four clones are separately blended into all of our wines in an optimal manner. As soon as primary fermentation is complete, the juice is moved by gravity into our barrel room, located in the cool under ground barrel room and the aging process begins. Our Reserve Pinots rest in French oak for 18 months, while our estate blend is aged for ten months. The wines are then blended and bottled on our own bottling line.
Fermentation for white and rosé wines takes place in stainless steel tanks. The Blanc de Noir is finished in an off-dry style, making this a perfect sipping wine, while the Pinot Gris and Rosé from Pinot Noir are dry and extremely food-friendly.
Each year Cardwell Hill wine evidences some variation due to terroir, that ineffably French term, which encompasses weather, soil and processing, all in one word. We are proud to share our wines with you and appreciate your loyalty.
Environmental awareness at Cardwell Hill Cellars
Cardwell Hill Cellars is keenly interested in being a good steward of our land.  We practice a number of organic and biodynamic concepts to protect the environment.  We compost and work back into the soil all grape skins, seeds and stems
produced during harvest.  Only juice is taken out of the vineyard.  Annual planting of cover crop provides additional natural organic matter. At the end of each season, the canes are cut back and mulched with a special machine to enhance the rate of decay thus adding nutrients back into the soil.
In accordance with biodynamic standards our vineyards are dry farmed, that is we have no irrigation systems. Each vine develops an extensive root system that seeks out underground moisture and mineral uptake. The root system stops growing when it has achieved just the right level of water uptake. The stress resulting from this effort is a key factor in developing unique flavors in the skins, and thus in the wine.
Cover crops are effective in weed control and attracting insects thereby producing and effective biodiversity.  We plant red clover, mustard, vetch and rye grass each fall which gives a beautiful blanket of color between the rows and meets our biodiversity objectives.
A portion of our vineyard is set aside as a home for the Fenders blue butterfly.  This butterfly is on the Federal Endangered Species list.Other areas in Benton county are designated as a habitat for this butterfly.   In addition we have about 10 acres throughout our property devoted to a natural habitat.  Several of these areas have water much of the year as part of the ecosystem.
The result is that Cardwell Hill Cellars is certified sustainable agriculture by both Salmon Safe and LIVE( low input viticulture and enology) .  Both of these organizations reflect the highly focused approach to sustainability and preservation of our natural resources.