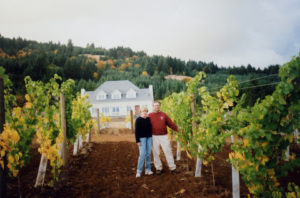 Cultivation of the original vineyard, located at the foot of Cardwell Hill, was started in 1983. During the next two years, approximately one-third of the 20-acre site was planted in Pinot Noir Wadensvil clone and the remainder in white varietals. In January of 2000 Dan and Nancy Chapel purchased the property as the first step in their dream of creating a premium vineyard to produce award-winning wines.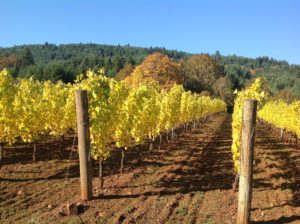 To develop the full potential of the site, the white varietals were removed to make room for some 29,000 new, grafted rootstock of Pommard, Dijon 115 and Dijon 777 clones. Expanded to 22 acres and designated as the Monet Vineyard, the entire site is devoted to high-quality Pinot Noir vines.
In 2002, the Chapels purchased a nearby property encompassing an additional 20 acres. Commanding a relatively steep, south-facing slope orientation, this second site expands upon the potential for Cardwell Hill Cellars to evolve into one of the premier wineries in the Willamette Valley. Named the Degas Vineyard, this property has been planted with 12,500 Dijon, 115 Pinot Noir, 3,200 Wadensvil Pinot Noir, and 6,400 Pinot Gris vines.